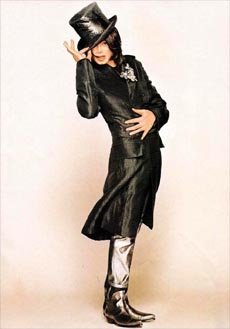 Strike A Pose
With a new release due out next year, Michael Jackson took time to interview with Ebony Magazine.
This is the first US magazine interview and cover for Jackson in 10 years. It may be just in time.
Seems like he needs the extra dough to help with his foreclosure woes. For the second or third time this year, Jackson has received a notice of pending foreclosure for the home where his parents live in Encino, California. Janet, who previously came to the rescue for not only the mortgage, but also paid fees and back dues owed to the Neverland employees, may not have to ride in on her white pony this time. Latest word is that a check has just been received.
DeeDee Kupps thinks Jackson has grown pale (har har) after so many daming public humiliations that a foreclosure notice nailed to his parent's door is probably nothing to bat an eye about.
Jackson is celebrating the 25th anniversary of his Thriller release.
Read more about him in December's Ebony Magazine.